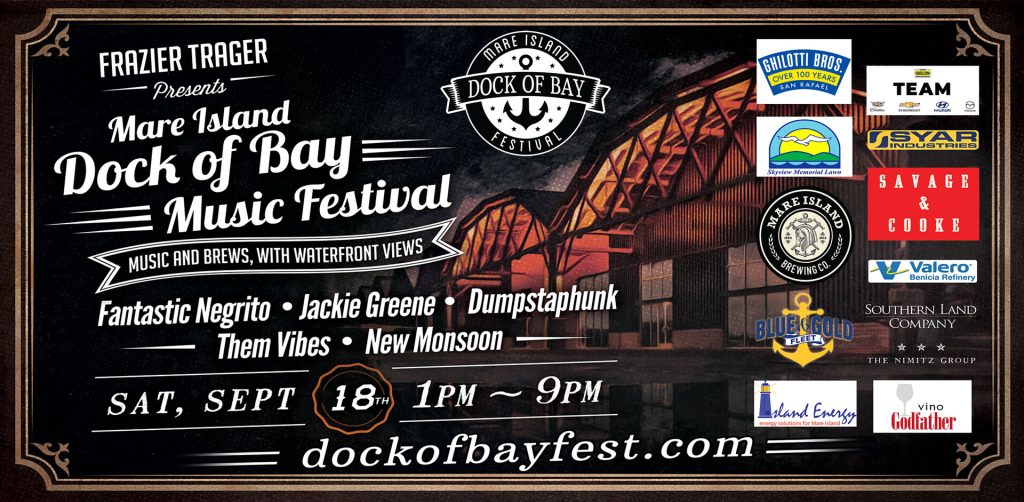 When the Pandemic hit us all in 2020, live entertainment came to a screeching halt and everyone who made a living playing music took a big hit, as did thousands of other industries and businesses. So in April of 2020 I started a new company with bay area promoter Jeff Trager to produce live stream productions until the Covid pandemic was behind us. Frazier Trager Presents got off to a good start producing high quality live stream productions but after several productions we realized people were more interested in seeing their favorite bands live and in person.
In early 2021 we decided to put together a music festival on Mare Island. After a few months of negotiating with the property owners and putting the line-up together, the Mare Island Dock of Bay Music Festival was born! On September 18th, 2021 we kicked off a very successful waterfront music festival featuring 3x Grammy Winner Fantastic Negrito, Jackie Greene, Dumpstaphunk, Them Vibes and New Monsoon. We are already booking bands for the 2022 festival and will be announcing the line-up when tickets go on sale in April 2022.
More information can be found at www.ftpresents.com, and www.dockofbayfest.com.